Wine Story would be happy to organise for you or your company the wine tasting event of your choice.

Thibault Lavergne, Wine Story's founder, conducts most of our wine tasting sessions in person. As well as being a wine and viticulture graduate, Thibault also has a degree in law and politics and is passionate about history. He has been conducting wine tasting sessions for companies in Paris and London for the last 15 years and writes articles on wine for several publications. His unique approach to wine tasting takes people on a cultural journey, discovering not only the wine itself but also the people who make it, their wine making techniques and the history and culture surrounding the wine. This reflects Wine Story's philosophy of bringing you not only fantastic wine but also the story that comes with it.
Thibault's corporate clients to date include the European Space Agency in Paris, the most prestigious banks and law firms, The Maison du Languedoc Roussillon in London and The French Chamber of Commerce in Great Britain.

Wine Casino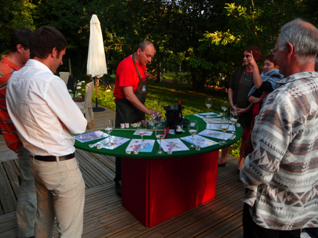 New team building activities: Wine Casino. The wine casino combines all the ingredients for a successful event for your guests: discovery of wine, a competitive element, the satisfaction of learning whilst having fun and finally the suspense of a competition.
Whilst encapsulating the ambience and excitement of a real casino, the format of a Wine Casino does not involve, of course, the financial risk of real gambling: we issue each of your guests with « fun money ». These games can be accompanied with other services: by exemple an introduction to wine tasting, challenges, auctions…
Wine Tasting options
The options set out below give you a flavour of the many different wine tasting options available.
This list is not exclusive, however, and we are also happy to tailor wine tasting sessions to clients' particular requirements. Please feel free to discuss any particular themes, interests or budgetary requirements with us.


Tour de France in six stages

Tour du Monde in six stages

One region: six wines from a particular region (e.g. Burgundy, Bordeaux, the Rhone Valley or the Languedoc)

One grape: six wines made from the same grape (e.g. Chardonnay, Cabernet or Syrah)

Comparisons between French wine and non-French wine (e.g. comparing 3 French Cabernet Merlot and 3 non-French Cabernet Merlot or comparing 3 different Rhone Valley grapes (e.g. Syrah and Grenache) against the equivalent non-French grapes)

Champagne tasting

Cognac tasting

Spirits tasting (Armagnac, Cognac, Calvados, Rum, Whisky,..)

Tasting determined by budget per bottle (e.g. a selection of different wines each at under £10 per bottle or over £40 per bottle)

Cheese and wine tasting

Cheese and wine tasting with a Cheese Master

Casino du Vin

Thibault's Wine Story Stories


Indicative information
The final price of your wine tasting session will depend on the exact wines and options chosen. We will, of course, confirm the final price before your wine tasting session.
Wine budget: to be discussed - price will depend on wine tasting option chosen

Recommended quantity of wine: one bottle per 10 people minimum

Glasses : can be provided on request (at additional cost)

Room/location: to be discussed (NB: rent to be paid separately)